When third-year PA student Raina McKenzie started her graduate studies at the University of South Carolina back in 2019, she knew she wanted to one day return to her small hometown of Kingstree, SC to work and serve her community. What she did not know, was that a significant portion of her student loans could be forgiven to do exactly that.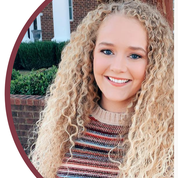 After listening to a guest speaker in class, McKenzie learned about the South Carolina Center for Rural and Primary Healthcare's Rural Practice Loan Forgiveness Program, a program developed to supplement the healthcare workforce in rural and underserved areas throughout the state. For McKenzie's PA program specifically, the program offers a forgivable student loan award of up to $40,000 in educational costs. Already interested in providing healthcare to underserved communities, the program was a perfect way for McKenzie to pursue her dreams while helping those in need.
"It made sense to take advantage of the loan forgiveness opportunity," she said. "The most rewarding part of participating in this program is knowing that I am going to be giving back to my own hometown."
McKenzie is excited to graduate and contribute to the Center for Rural and Primary Healthcare's mission of delivering health services to South Carolinians no matter their location. She hopes that her positive experience will encourage more students to utilize the Loan Forgiveness Program in the future.