SCPHA-CRPH All of Us Fellow Announcement
The South Carolina Public Health Association (SCPHA) and the South Carolina Center for Rural and Primary Healthcare (CRPH) are pleased to announce Samuel Baxter, PhD, MPH has been selected as the recipient of the SCPHA-CRPH All of US Research Fellowship.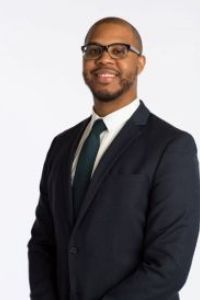 Samuel L. K. Baxter, PhD, MPH, is a Postdoctoral Fellow in the Public Health Sciences Department at Clemson University. His research and work centers on neighborhood and social factors that influence cardiovascular health opportunities and outcomes. Dr. Baxter is currently a co-investigator for a Centers for Disease Control and Prevention High Obesity Program (HOP) that utilizes policy, systems, and environmental change approaches to reduce obesity in three rural South Carolina counties. Specific areas of expertise include social and structural determinants of health, quantitative and qualitative analysis, community-engaged research approaches, cardiovascular disease prevention, and men's health. Dr. Baxter earned his PhD in Health Policy and Management from the Gillings School of Global Public Health at UNC (Chapel Hill, NC), an MPH from Morehouse School of Medicine (Atlanta, Georgia), and BS in Sociology from Clemson University (Clemson, SC). He is an alumnus of the Robert Wood Johnson Foundation's Health Policy Research Scholars Program.
Project
The effects of stress on physical activity: Differences by geography and race/ethnicity in South Carolina
Research Questions
The proposed study seeks to answer two research questions. Is the impact of stress on physical activity consistent across urban/rural residence in South Carolina? Does the stress-physical relationship differ by race/ethnicity within urban/rural designations?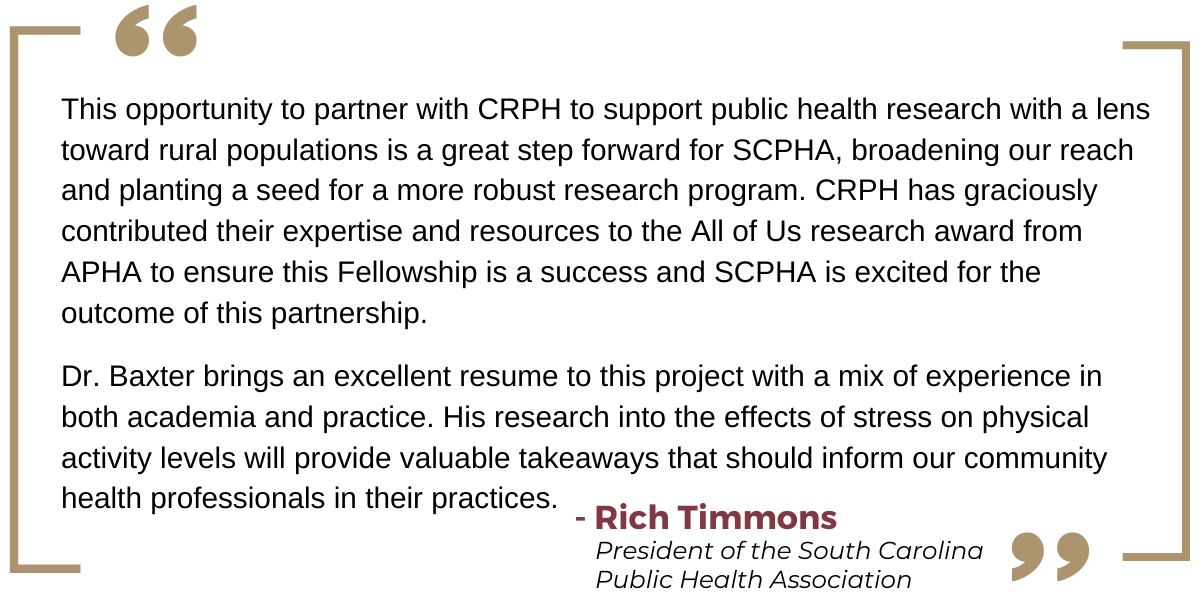 About the Fellowship
This Fellowship supports first-time or early career researchers or researchers from communities underrepresented in biomedical research to conduct a research project focusing on South Carolina. The Fellowship award includes a $6000 stipend, thanks to the joint support of the American Public Health Association's Affiliate Health Equity Research Support grant and CRPH. The fellow is provided mentorship on the research project by faculty within the CRPH. The project will be presented to a national audience of APHA members via webinar in May of 2022.
Research projects use the All of Us Research Hub, are specific to South Carolina, and include a rural focus. The All of Us Research Program, part of the National Institutes of Health, is building one of the largest biomedical data resources of its kind. The program aims to improve precision medicine by prioritizing inclusion of representatives from groups historically underrepresented in biomedical research, including people of color, people with disabilities, the LGBTQ+ community and people in rural areas. The All of Us Research Hub stores health data from a diverse group of participants from across the United States.